Breaking Creative Blocks
by Nancy Park on 11/5/2009 3:01:23 PM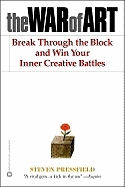 The War of Art
By Steven Pressfield
If you are like me, sometimes you put your creative work at the last of your list. The War of Art is a wonderful book to keep by your side to light your inner fires again. It applies to all creative people: writers, artists, inventors, crafters, or even people who haven't yet engaged their creative talents -- because we all are born with them.
The subtitle
says it all:

Break Through the Blocks and Win Your Inner Creative Battles.
I bought it online through Alibris for about $8.00. It's a paperback.
Every time I start reading this book, it zaps me, and I have to put it down and start painting. I haven't been allowed a chance to finish it. It's all Pressfield's fault.

It was written by a novelist as advice to other creative people, from insights he had gained through study and experience. It's a "novel" rendition of your standard self-help book, packed with vivid imagery and humor ― and kick-in-the-pants urgency. Not for children: The imagery is a little too, uh, coarse, and some of the advice is tongue-in-cheek. And don't start reading this in bed, or you'll have to get up and do some creative work first. Up all niii-iiight!
Dripping with good-natured irony, the book is the most fun I've ever had reading non-fiction. The author, after many wasted years, discovered that his own creative force was being sabotaged by nothing more than his own resistance. After seeing other people saying what they were going to do, and watching them not do it, he realized that our resistance is a widespread plague. Even talented creators actively resist the creative urge. The opposite of creation is resistance, not destruction ― and it's common in many of us. Read this book for tips on how to fight dawdling and excuses. You'll love it!
Cheers,
Nancy