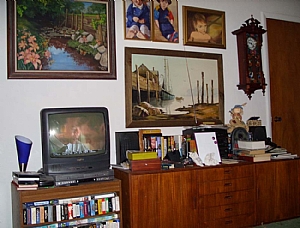 I hope you all had a great Labor Day Weekend.
I know I did, because I actually got some work done
—
and really feel good about it.


You say that's not what Labor Day is for? Well, if your "work" is actually a combination of play and work, as art is, you can get away with saying that.


This photograph of my own not-for-sale work has earned the title of "The Wall." It's likely that nickname applied because the first painting on the left is lightly called "Hole in the Wall."

I'm going back to "work." Just dropped a line to say Hi!

Cheers,
Nancy